Warranty
EXTENDED USED CAR AND USED TRUCK WARRANTIES IN MISSISSAUGA, BRAMPTON AND THE GREATER TORONTO AREA [GTA]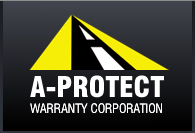 A-Protect Warranty Corporation is one of Canada's leading warranty product solution for various automotive vehicle owners.
Established in 1999, A-Protect have become one of the most recognized and sold warranty products by retail dealerships throughout Canada. A-Protect Auto Warranty offers valuable and affordable mechanical breakdown protection for automobiles. Our auto warranties are available on any year, make, or model vehicle with any mileage/kilometers.
What distinguishes A-Protect Auto Warranty from the other warranties available in the marketplace is every warranty product is fully insured. We can fully handle our own claims and never send you off to an unknown third party.We offer a wide array of coverage with highest ratings among companies in the automotive industry. Our mission is to provide our customers with the most excellent warranty available at the most competitive and fair prices. As well as to deliver outstanding customer service, and prompt assistance when you need it most.
---
Top 10 Points on Why to Choose A-Protect Warranty
Rising costs. When it comes to protecting the investment you have in your vehicle there is no better way but to purchase an A-Protect Auto warranty. Some people may ask what if my car never breaks?
According to ConsumerReport.org, the average three year old car has 55 problems per 100 vehicles. Its also not very surprising that car repairs are expensive and constantly rise with every year.

Major Component Average Costs to Repair:

Transfer Case $2000-3000
Transmission $2000-6000
Transaxle/Differential $1500+
Engine overhaul $3000+
Seals and gasket $500-2000
Air Conditioner $1000+
Turbo/Supercharger $1500+
Electrical Components $800+


Exclusive Discount Program (see dealer for details)

Customers don't have to fill out any long strenuous paper work

Towing, Travel/Lodging, and Accidental Benefits (see contract for more details)

Helpful claims team

We offer the lowest and most comparable pricing on the market for all our auto warranty programs

Hassle free maintenance

Warranty Transferability

Increased Resale Value with A-Protect Warranty

Direct payment to repair facilities by credit card and/or cheque no waiting necessary